SOCIAL EVENTS & LOCAL ATTRACTIONS
Program 1:
Social Events
For Registered Conference Participants
Program 2:

LOCAL ATTRACTIONS


that conference attendees may wish to visit on their own
Program 3:

Longer day-trips


that attendees may wish to take on their own before or after the ICC
Conference Welcome Reception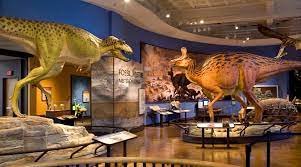 Date: Sunday, 14 June 2020
Time: 6 pm - 9 pm
Venue: San Diego Natural History Museum
RECEPTION AND CONFERENCE BANQUET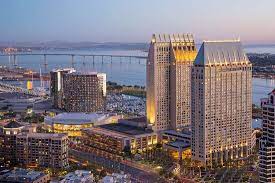 Photo courtesy of Hyatt Corporation
Date: Thursday, 18 June 2020
Time: 6:30 pm - 10 pm
Venue: Manchester Grand Hyatt Hotel
SAN DIEGO PADRES BASEBALL GAME
The San Diego Padres have represented the city in Major League Baseball competitions since 1969. Twice, they have advanced to the World Series championship.

A block of discount tickets has been reserved for the Tuesday, June 16 game versus the Cincinnati Reds at 7:10 PM. Tickets can be purchased during registration through the registration portal.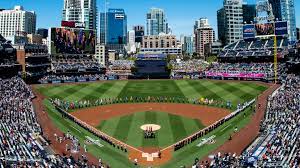 Sunset Whale Watching Tour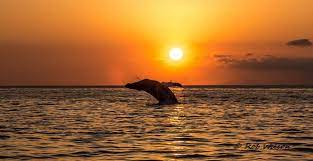 Enjoy a three-hour evening tour of the Pacific on board the Ohana (capacity: 128 persons) and catch a glimpse of blue whales, fin whales, humpback whales, minke whales, dolphins, and sea lions. Food (sandwich box) will be provided and beverages (including beer and wine) will be available for purchase on the boat. No outside alcohol allowed on the boat. Pick-up and drop-off will be at Marriott Marquis dock (between Manchester Grand Hyatt San Diego and Marriott Marquis San Diego Marina).

Tickets can be purchased through the registration portal. Please note that the price is based on a minimum number of attendees and the tour will be cancelled if we do not meet the minimum. Partial/full refunds will be issued if we do not exceed the minimum/tour is cancelled.
The 5K run will take place along the walking/running path in Embarcadero Marina Park which is adjacent to the Manchester Hyatt.

Attendees can meet in the Hyatt lobby at 5:45 AM to walk to the start line. Additional information, registration, and bib pick up will be available on Sunday at the conference registration desk. Individuals may also register Thursday morning between 5:30-5:45 AM in the Hyatt lobby.

Maximize your stay during 17th ICC in San Diego, CA. Find a variety of discounted tickets for all types of San Diego tours and attractions.
San Diego Bay Dinner Cruise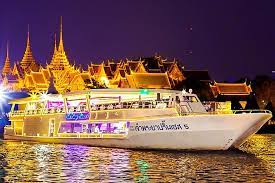 Photo courtesy of hornblower.com
Enjoy the beautiful Pacific sunset onboard a private yacht. The three hour cruise will include drinks, a buffet dinner of traditional San Diego foods, and live music. Enjoy breathtaking views of San Diego's most famous sights, including the Coronado Bay Bridge, the Star of India, the North Island Naval station and the USS Midway aircraft carrier. It is a magical San Diego experience so many visitors never forget.
One of the top orchestras in the United States, the San Diego Symphony orchestra, was founded in 1910 and is a leading force in San Diego's artistic community. During the summer, the orchestra performs its Summer Pops series on the waterfront at Embarcadero Marina Park. Contingent on the symphony's 2020 schedule, you will have the opportunity to experience a performance at this beautiful waterfront venue.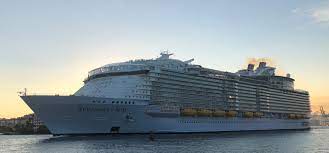 Photo by Ralph Chaney, courtesy of sandiego.org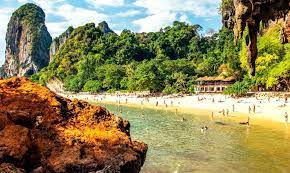 Photo by Francis Lee, distributed under CC-BY-SA-3.0
On this seven-hour tour, experience the wonders of San Diego's coast. Visit the famous Point Loma lighthouse and Cabrillo monument for spectacular views from above. Then spend some time in classic beachfront towns such as Ocean Beach, Mission Bay, and Encinitas where you will get to browse the shops and enjoy California fare at the many restaurants. Finally, experience the famous bluffs of Torrey Pines and the beautiful La Jolla cove.
Temecula Wine Country Tour
The Temecula Valley, four hours from San Diego, is called "Wine Country" because its microclimate of warm midday sun and cooling ocean breezes are ideal for growing most grape varietals.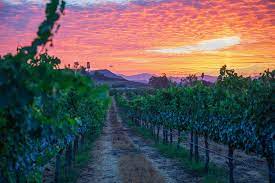 Photo by Renee Silverman, distributed under CC BY-ND 2.0
Longer
Day-Trips

From San Diego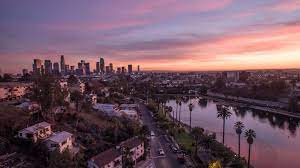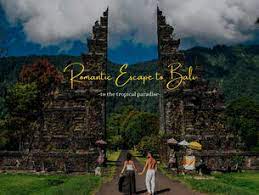 Photo courtesy of prayitno, Flickr
Los Angeles is a trend-setting global metropolis with an extraordinary history and a rich cultural heritage. Since its founding in 1781, Los Angeles has grown into a dynamic metropolis with its eye on the future, while preserving its extraordinary cultural heritage. LA is one of the most ethnically diverse cities in the world, making it a truly global city.

There are world famous theme parks, like Universal Studios Hollywood, Six Flags Magic Mountain and Disneyland, while studios like Universal, Warner Brothers, Paramount Pictures and Sony Pictures offer the ultimate film and TV fan experience. Attractions like the USS Iowa and the Ronald Reagan Presidential Library offer something for the entire family. Shop at retail meccas like The Grove and the Beverly Center, or browse eclectic shopping neighborhoods and bargain outlets. Recreational activities include spectacular beaches and hundreds of miles of hiking and biking trails, or decompress at one of L.A.'s top spas.

One of the best ways to experience Los Angeles is by visiting its incredible cultural attractions. L.A. has more museums and theaters than any U.S. city, and a thriving music and gallery scene. An LA Philharmonic performance at Walt Disney Concert Hall is a must-see, as well as an outdoor concert at the Hollywood Bowl and shows at other famous music venues. L.A.'s world class museums include the stunning Getty Center in Brentwood and Los Angeles County Museum of Art (LACMA) on Museum Row. Monthly artwalks take place throughout the city, including popular events in Downtown L.A. and Venice Beach. And of course, when it comes to film and television, Los Angeles is the entertainment capital of the world.

One of the most visited places in Southern California, Hollywood has been an international center for film and entertainment since the silent-movie days of the 1920s. Many television studios are still based in Tinseltown, and visitors can book ahead to reserve tickets for TV show taping during their stay in Los Angeles. A stroll along the star-studded Walk of Fame leads past the historic Chinese Theater where footprints and handprints of famous movie stars are encased in cement on the sidewalk. The district's iconic Hollywood sign is located in Griffith Park, home to the Art Deco-style Griffith Park Observatory, the outdoor Greek Theatre and the Los Angeles Zoo.

Home to many Hollywood stars, Beverly Hills features the upscale shopping street of Rodeo Drive. Visit the expansive Beverly Gardens Park to see its spectacular fountains and rose gardens, plus an illuminated Beverly Hills sign. Take in a screening at The Academy of Motion Picture Arts and Sciences, where legends of the big screen mix and mingle with fans. Wander the manicured gardens and vast public spaces at Greystone Mansion - a historic estate with a storied past and the backdrop for countless Hollywood feature films.
Disneyland is the only theme park built and designed by Walt Disney and has been operational since 1955. Since its opening, Disneyland has a larger cumulative attendance than any other theme park in the work, with over 650 million guests since it opened.

Disneyland Park consists of eight themed "lands" and a number of concealed backstage areas, and occupies approximately 85 acres. Throughout the park are 'Hidden Mickeys' representations of Mickey Mouse heads inserted subtly into the design of attractions and environmental decor. An elevated berm supports the 3 ft. narrow gauge Disneyland Railroad that circumnavigates the park. The themed areas are:

Main Street, USA – a patterned Midwest town of the 20th century is home to the Disney Art Gallery and the Opera House.

Adventureland – Designed to recreate the feel of an exotic tropical place, it is home to the Indiana Jones Adventure and Tarzan's Treehouse.

New Orleans Square - Based on 19th Century New Orleans, it is home to Pirates of the Caribbean and Haunted Mission attractions.

Frontierland - recreates the setting of pioneer days along the American frontier and includes attractions such as the Big Thunder Mountain Railroad and the Pirate's Lair on Tom Sawyer Island.

Critter Country – an area originally meant to showcase the dances and customs of indigenous tribespeople, the main attraction today is Splash Mountain, a log-flume journey inspired by Disney's Academy Award-winning film, Song of the South.

Fantasyland – its 1983 refurbishment turned it into a Bavarian village with attractions including Peter Pan's Flight and the King Arthur Carousel.

Mickey's Toontown – opened in 1993 was partly inspired by the fictional Los Angeles suburb of Toontown, its two main attractions are Gadget's go Coaster and Roger Rabbit's Car Toon Spin.

Tomorrowland – designed to provide a living blueprint of the future, its main attractions include Space Mountain and Autopia.

In addition to the attractions, Disneyland provides live entertainment throughout the park. Many Disney characters can be found throughout the part, greeting visitors, interacting with children, and posing for photos. Every evening at dusk, there is a military-style flag retreat to lower the U.S. flag by a ceremonial detail of Disneyland's Security staff. The ceremony is usually held between 4:00 and 5:00 pm, depending on the entertainment being offered on Main Street, USA, to prevent conflicts with crowds and music.
Palm Springs and Joshua Tree National Park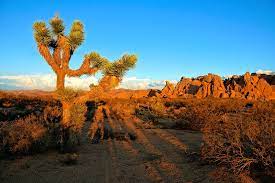 Joshua Tree National Park is a popular destination for hikers, rock climbers, photography buffs, and nature lovers. Named after the treelike genus of yucca that grows in the park's northwestern section, Joshua Tree is an expansive park that includes multiple overnight camping areas, natural springs, man-made reservoirs and more than 4,500 established rock climbing routes. Places of interest include an old cattle rustler's hideout, Native American rock art and Keys View, a sky-high natural overlook that offers views of the landlocked Salton Sea.

On your way to Joshua Tree, you can visit Palm Springs, a popular vacation destination since the 1920s when movie stars used the desert city as their winter playground. With its mid-century architecture, the city's Movie Colony District illustrates the lifestyle Hollywood's elite enjoyed. More than a dozen beautifully maintained golf courses lie within the bounds of the 100-square-mile city, which makes Palm Springs a golfer's dream, but the region's natural attractions are worth exploring too. A ride on the Palm Springs Aerial Tramway to the 8,516-foot (2,596 meter) summit of Chino Canyon gives visitors a birds-eye view of the desert landscapes.
California Coastal Towns: Catalina Island
Catalina Island is a picture-perfect paradise a world apart from the hustle and bustle of the mainland just 22 miles away. The air is refreshing, the water is clear, and there's not one traffic light on the entire island. From the city of Avalon to the rustic village of Two Harbors, experience the Island for yourself - explore the rugged back country where the buffalo roam, enjoy the most stylish in dining experiences, conquer the rush of thrilling adventures, and relax on the sand with the gentle rhythm of the ocean.
California Coastal Towns: Santa Monica

Santa Monica offers everything travelers want from a Southern California beach town, including great surfing and swimming, wide stretches of sand and plenty of sunshine. Developed as a seaside resort in the early 1900s, the city has grown into an upscale community filled with designer shops, tasty restaurants and unique art galleries. The old-fashioned amusement park at the Santa Monica Pier is home to the city's most recognizable landmark, a solar-powered Ferris Wheel illuminated with LED lights. Visitors can rub elbows with the rich and famous at the Third Street Promenade, one of the region's premier shopping destinations.
California Coastal Towns: Santa Barbara
Santa Barbara is a coastal city less than 100 miles (160 km) from Los Angeles but differs vastly in pace from its huge neighbor to the south. Sometimes referred to as "Riviera of the West," Santa Barbara is well known for its beautiful beaches, mild temperatures and for the California Mission-style architecture that is very common in this city. A long-standing local ordinance ensures that all commercial construction follows the Mission theme, which results in a plethora of red-tiled roofs and adobe supermarkets. Santa Barbara's most popular attractions are its Stearns Wharf and the Mission Santa Barbara, a Spanish outpost founded by the Franciscan order in 1786.

Tobacco magnate Abbot Kinney gets the credit for transforming a marshy stretch of shoreline south of Santa Monica into the "Venice of America." In 1904, Kinney turned a series of drainage channels into scenic canals and constructed a Venetian-inspired arcade on the beach. While the canals remain one of the community's top attractions, most visitors head for the beach's world-famous boardwalk where eccentric street performers compete with shops, stalls and food stands for attention. The beach's volleyball courts, skating plaza and body-building Muscle Beach area are crowd-pleasers as well. The pier at the southern end of Venice Beach is perfect for fishing.